DISCOVER THE SMART DISC
FIXO is a voice controlled home assitant: an eye catching device that features a full set of apps and ready to use bluetooth objects ALWAYS BE EARLY
Multiface clock with weather forecast, daily schedule and special dates to note SMART HOME AT HAND
An easy solution for lighting with voice control and remote monitoring via smartphone
NEWS AT A GLANCE
All the latest posts from Twitter, the freshest pics from Instagram and updated live sport scores LISTEN & SEE MUSIC 
Experience the digital audio quality of Spotify player in the rotating vinyl record interface
CHOOSE YOUR FAVORITE CLOCK
Time checking is an everyday need, so why settle for the same old clocks? They can't really represent your character. With FIXO you are free to pick the face that best suits your trendy taste or your daily mood
 GET YOUR
FIXO HOME:
THE ALL ROUND
PERSONAL ASSISTANT
 The smart present for all the family!
THE SMART HOME READY TO USE
Improve the interaction with your home from inside ond outside
LIGHT CONTROL
7W dimmable and multicolor bluetooth smart bulbs
SECURITY
HD camera and noise detection to remotely monitor the house via smartphone
INSIDE
A stress free installation set of bluetooth smart objects included with FIXO to handle with voice commands LIGHT CONTROL and AUTOMATION
OUTSIDE
The featured HD camera combined with the internal microphone allow to monitor the house remotely from your smartphone for SECURITY
FIXO SMART ROOM is a digital CONCIERGE for Hotellerie that helps any kind of accommodation facility to provide a ENHANCED EXPERIENCE to the guests while generating UPSELLING REVENUES with customized and targeted DIRECT ADS

The round computer that looks like a vynil allows you to control music and home automation
Wired Italia
Evolving technology gives a new life to many regular things that you use in your routine. FIXO is a computer disguised in clock
Startup Buzz
Compared to other  home systems, FIXO takes it up a notch with a stylish design that looks great presented on a table or on the wall anywhere in the home
Backer Jack
FIXO brings your digital life into the smart home
Home & Smart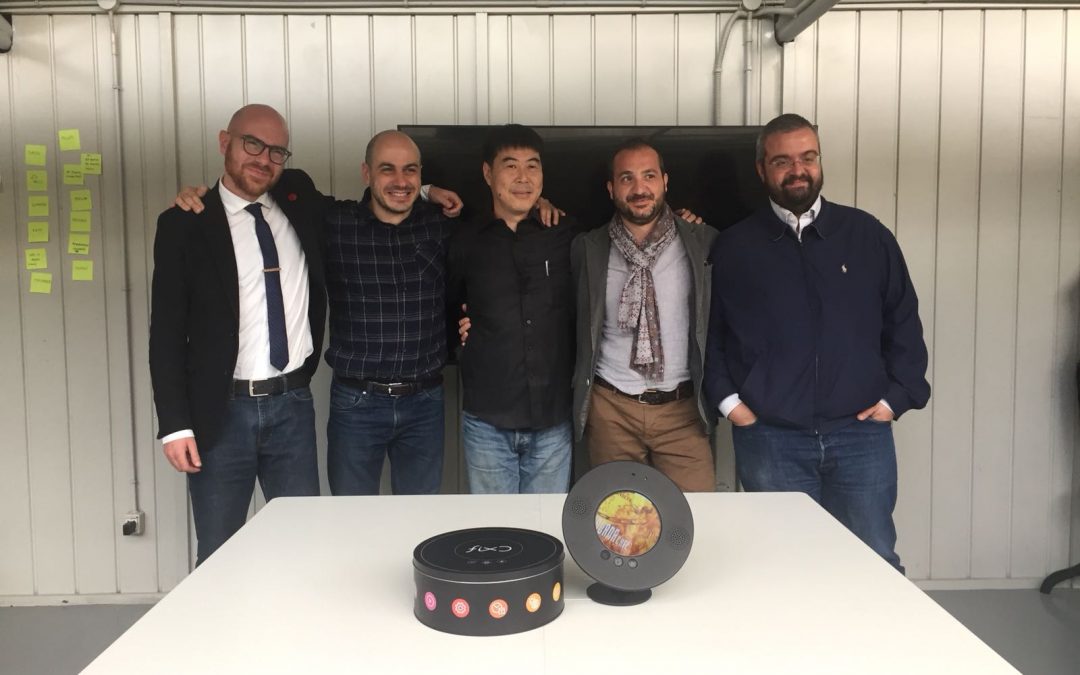 Milan. May, the 9th The Italian startup Nuvolaria has ratified the entry into the company of the Chinese investor Ying Wang, who after the signing of the agreement has entered fully into the Board of Directors. The funds raised will allow these young entrepreneurs to...
Another Hospitality event for FIXO team: this time the rounded Room Assistant landed in Berlin, where ita was highly appreciated and catched the interest of several facility managers. The location was incredibly big, because it gathered people from all over the world...